Xinertel partnership with ATxTel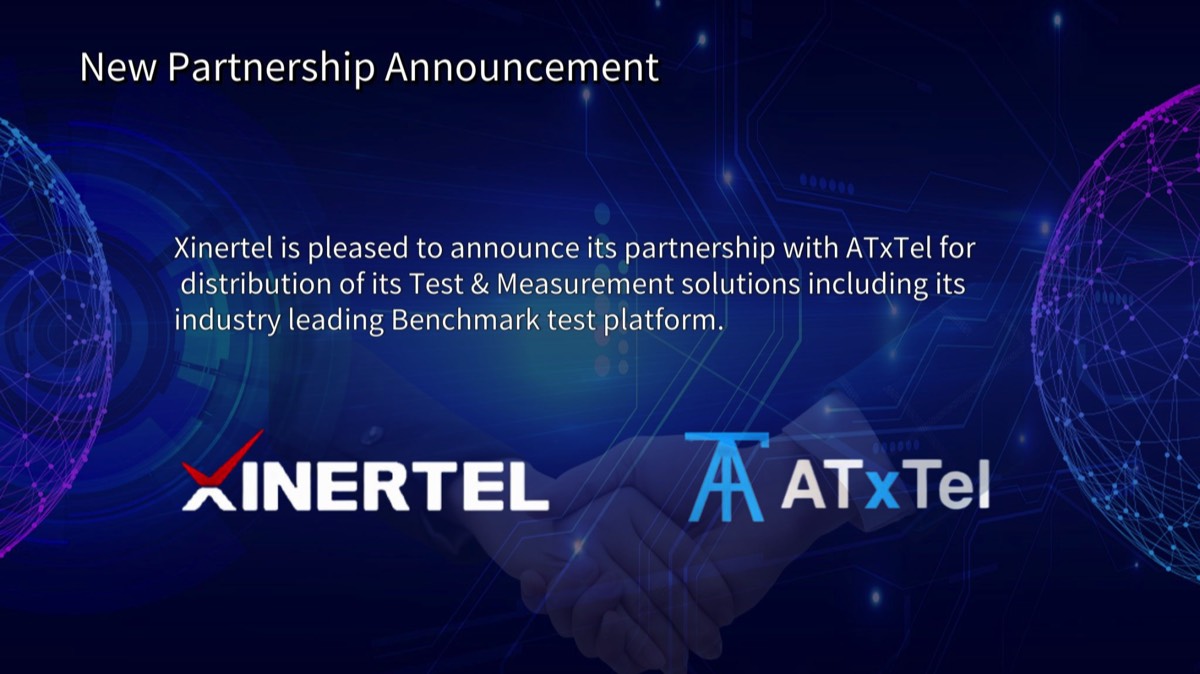 Xinertel is pleased to announce its partnership with ATxTel for distribution of its Test & Measurement solutions including its industry leading Benchmark test platform.
Beijing, China / San Jose (Sep 26, 2022) –
Xinertel is pleased to announce its strategic partnership with ATxTel for distribution in North America, Latin America and India. The Benchmark series, Xinertel's next-gen network test platform is an excellent pairing with ATxTel's Test & Measurement expertise, expansive product portfolio and testing and implementation services.

With technology playing an increasingly critical role in every aspect of business, companies recognize the need to accelerate the development while ensuring quality, performance and scalability of their devices, systems and networks.

"The Xinertel/ATxTel partnership is a powerful combination. Xinertel has over 15 years of addressing complex network testing requirements and focusing on what our customers need to stay ahead of the technology cure. Partnering with ATxTel will allow us to reach additional customers and align to their requirements more rapidly. It will enable Xinertel to design, and build the next generation of network test products and platforms,"
said Jane Lyv, Xinertel's Global Head of Business Development.


"We are excited to add Xinertel's Benchmark test platform to our growing solution portfolio. Benchmark offers our customers an alternative solution providing a unique mix of capability, usability, and affordability. With the ever-increasing demand for bandwidth driven by both commercial and business OTT applications, services and expansion of remote user access, the need for speed and ensured QoS has never been greater."
Commented ATxTel's Vice President of Products, Ash Amine.


With the introduction of the Benchmark Series, Xinertel is further expanding its offering and value to its customer to ensure the reliability, scalability and overall performance of their products and services. The Benchmark Platform is specifically designed to meet the ever-evolving and complex testing needs of small to large Enterprises, Government Agencies, Network Equipment Manufacturers and Telecom Operators that is both simplified and cost effective.

For more information about the Benchmark Platform, please visit:
https://www.atxtel.com/Xinertel
About Xinertel
Xinertel, established in 2007, is a trusted test and measurement leader recognized for innovative solutions that optimize performance, improve quality, and ensure the deployment of emerging network products and technologies. Xinertel provides functional and high-scale Layer 2-7 test solutions for leading Enterprises, Equipment Manufacturers, Service and Cloud Providers, Telecom Operators and Government agencies for the design and verification of telecommunication devices and network infrastructures. Our solutions are tailored for high-speed advanced ethernet testing covering switches, routers, applications, security, environmental, telecom carrier networks, industrial networks etc.
About ATxTel

ATxTel is a lab infrastructure solution provider, and test tools and systems integrator trusted by leading Network Equipment Manufacturers, Component Manufacturers, Mobile Network Operators, Hyperscalers, Governments Agencies and Enterprises as a value-added reseller and consultant in the acceleration of development, validation and deployment of new products and services.

ATxTel Sales Contact:
sales@ATxTel.com