AppStorm Network Traffic Generator for Application-Aware Devices
Benchmark the Performance and Functionality of Application Aware Devices and Systems


Emulate clients, servers, and real network traffic with our extensive library of application flows to performance benchmark application aware devices and systems like SD-WAN gateways, Next Generation Firewalls, IPS/IDS Systems, DPI, and Anti-DDoS readiness.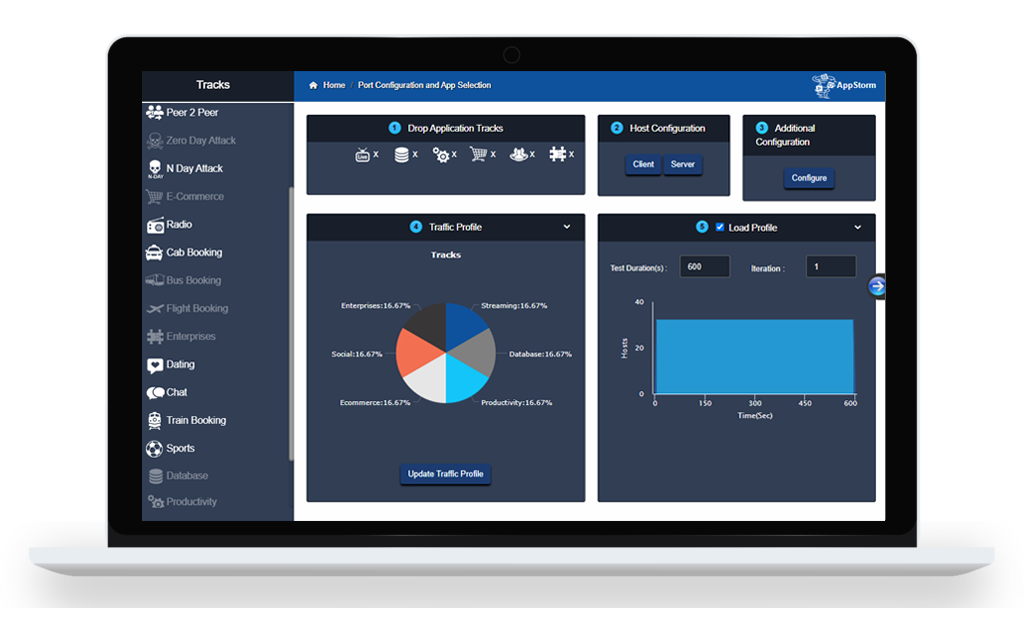 Utilize Pre-Built Application Flows

Ensure quality of service of products and quality of experience for customers using pre-built application flows for many applications such as, Netflix, Oracle, SAP, Facebook Twitter, Uber, and Zoom. Simplify test configuration using our modern, browser-based user interface or automate testing using RESTful API.
Generate a city scale of application traffic to quickly and easily validate the performance of application-aware devices and networks.

Choose from an extensive library of application flows that is continually updated by a dedicated team of protocol experts.

Configure custom traffic flows with a mix of applications and protocols that mimic your production network traffic.
Optimize next-generation firewalls and other security infrastructure to help build threat resilient networks.

Test using pre-defined flows for video streaming, social media, SaaS, E-commerce, finance, gaming, chat, web conference, and many others.

Evaluate the performance of vendor solutions and service provider networks before deployment.